This poor little blog is getting neglected! Paper*Cakes Finds has taken off, leaving me without much time to post here. So... what is new in my life... well, lots! My little guy has been walking (no, wait, running!) since Mother's Day and he has kept me really busy! It seems that summer has finally (almost) arrived in PEI - we had a 20+ day yesterday and we all took advantage of it.. I even got a little bit of a sunburn.
My hubby is big into sports, and I attended both a hockey and baseball game this week. The hockey game was special though - they were playing for charity. Here is a pic of his team after the game:

Sorry It's a little blurry!
Earlier in the week, I looked at a couple of houses. Don't freak out - we're just beginning to browse! We don't even know for sure if we could afford a house.. but we are going to speak with a Mortgage Broker this week and see what is in our price range. Here is a picture of one of the houses we looked at: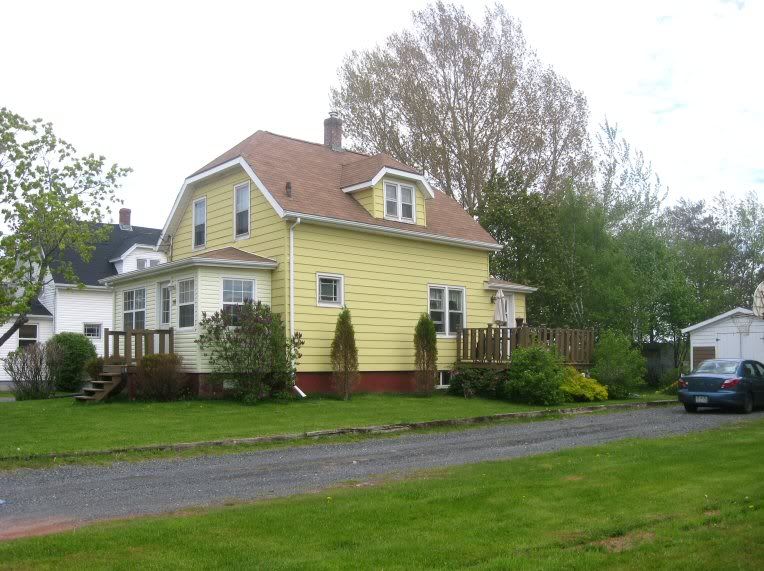 It's a 3 bedroom with a basement, and a shed. It has a beautiful yard that overlooks the water. This house is located 20 minutes outside of Charlottetown in a small town called Mount Stewart - they have a school, gas station, restaurant, and post office. The house needs some cosmetic work and was overpriced, though.. so we will just keep looking.. we are going to take our time and browse.
I also went to the Dr. this week to have my ankle checked out.. and got a little bit of bad news - it's still broken and hasn't even healed at all! I broke it on January 17th and was in a cast for 12 weeks. I have been cast free almost 2 months and walking around on it and I have very little pain. The Dr. is stumped - so they are testing me for bone diseases and have scheduled me for surgery/bone graft in August. I'm not looking forward to that but I would like to have my ankle fixed up... I can't wear any cute shoes!!! lol :) that and I don't think it would be good to walk around all my life with a broken ankle ;) ;)
There is a new LSS opening here in July, and I contacted them about teaching classes. I am really hoping to do that.. it would be a great way to meet other crafty peeps, and I love to share techniques with others! I'm also in the development stages of an online class, so watch for that! If you have any ideas or suggestions, please let me know :) So far, the projects I am planning for the first class are a teacup pin cushion, a stitched felt woodland scene, and a fold out mini book.
In thrify news.. I seem to be lucky lucky lately with finding things! Yesterday I got this mirror and set of pyrex bowels at the flea market.. would you believe I paid $6 for this whole set of bowls?! They guy said "That's a great deal" and I said "Yes it really is!!" and bought them and ran before he changed his mind... lol ! :) The mirror was originally marked $40 (a set w/ other pieces) and I ended up getting just the mirror for $18!!! I want to paint it.. but am unsure what color yet.
Orders in the shop have been crazy lately!! I am so happy/excited, but now crazy busy trying to pack them all up and send them out! I didn't get anything new made last week, so this week I am hoping to do lots of stuff! I approached a local store a couple of weeks ago about selling some of my items, and I'd like to get more things done to show them :) I'm also branching out into more jewelery as I can buy supplies here and there. Here are a few pics of some of the newest items:
Anyways, this is turning into a book so I will wrap it up here! xoxoxo